Spain begins to ease lockdown to revive economy
Spain, one of the countries worst hit by the coronavirus, is beginning to ease strict lockdown measures that have brought its economy to a standstill.
People in manufacturing, construction and some services are being allowed to return to work, but must stick to strict safety guidelines.
The rest of the population must still remain at home.
Almost 17,500 people with Covid-19 have died in Spain, but the rate of new infections has been falling.
Italy – the hardest-hit country in Europe, with almost 19,900 deaths – will allow a narrow range of firms to resume operations on Tuesday.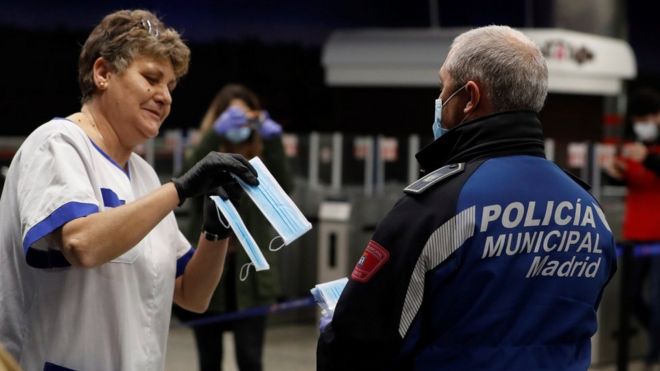 Spain's health ministry said on Monday that the daily number of deaths had dipped slightly, with 517 reported in the previous 24 hours, compared with 619 announced on Sunday. The official total death toll is now 17,489.
The number of new infections continues to drop, with 3,477 confirmed cases bringing the total to 169,496.
"We are still far from victory, from the moment when we will recover normality in our lives," Prime Minister Pedro Sánchez warned over the weekend.
"We are all keen to go back out on the streets… but our desire is even greater to win the war and prevent a relapse," he added.