Holiday bookings 'explode' as travel restrictions ease
Travel companies say holiday bookings have "exploded" after the government announced current restrictions will be eased.
Ministers said from 6 July, blanket restrictions on non-essential overseas travel will be relaxed in the UK.
Holidaymakers will be allowed to travel to certain European countries without having to spend 14 days in quarantine upon their return.
A spokesperson for TUI said the move was a "hugely positive step forward".
"We've already seen bookings increase by 50% this week, versus last [week], with holidays to Spain and Greece looking the most popular this summer," said Andrew Flintham, managing director of TUI UK and Ireland.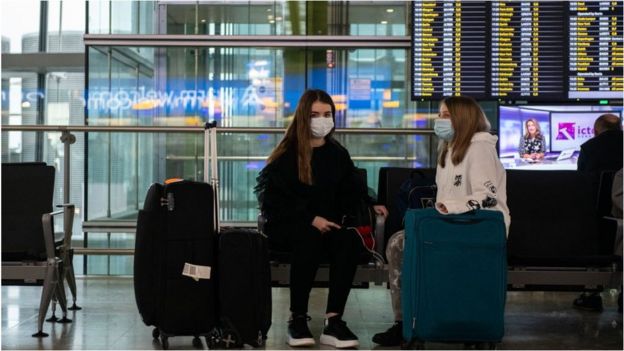 Lastminute.com said it experienced an 80% increase on holiday sales compared to last week, largely attributed to the announcement of Spain lifting the quarantine for Brits.
The list of travel corridors with the UK is due to be published next week and is expected to include Spain, France, Greece, Italy, the Netherlands, Finland, Belgium, Turkey, Germany and Norway – but not Portugal or Sweden.
It comes as it was announced a further 100 people had died from the virus in the UK, with a further 890 people testing positive, as of 27 June.
'Traffic light system'
John Keefe, director of public affairs at Eurotunnel, said phones had been "ringing off the hook".
Eurotunnel saw an increase of bookings weeks ago, suggesting that many holidaymakers had already started to "discount the quarantine measures", said Mr Keefe – but bookings "exploded" when the announcement was made on Friday.
Foreign Office advice against all but essential international travel has been in place since 17 March.
Under the new rules, a traffic light system will be introduced – with countries classified as green, amber or red depending on the prevalence of coronavirus. The UK is likely to discuss arrangements with countries over the coming days.
A government spokesman said measures would give people "the opportunity for a summer holiday abroad" while also boosting the UK economy – but stressed the relaxation depended on risks staying low.
The government said it "wouldn't hesitate to put on the brakes" if the situation changes.