Covid lockdown restrictions hit retail sales
Store closures enforced by Covid curbs pushed down UK retail sales in November, figures have indicated.
Sales fell by 3.8% last month, the Office for National Statistics (ONS) said, bringing to an end a six-month streak of rising trade.
Clothing store sales saw a sharp fall from the previous month, the ONS said, while food stores and household goods stores were the only sectors that grew.
Despite the monthly fall, overall sales remain above their pre-pandemic levels.
"After a run of strong growth, retail sales fell back in November as restrictions meant many stores had to close their doors again," said deputy national statistician for economic statistics Jonathan Athow.
"Clothing and fuel were particularly hit by the winter lockdown, with their sales falling sharply."
Mr Athow added that food sales, especially click-and-collect, were boosted as people were not able to eat out.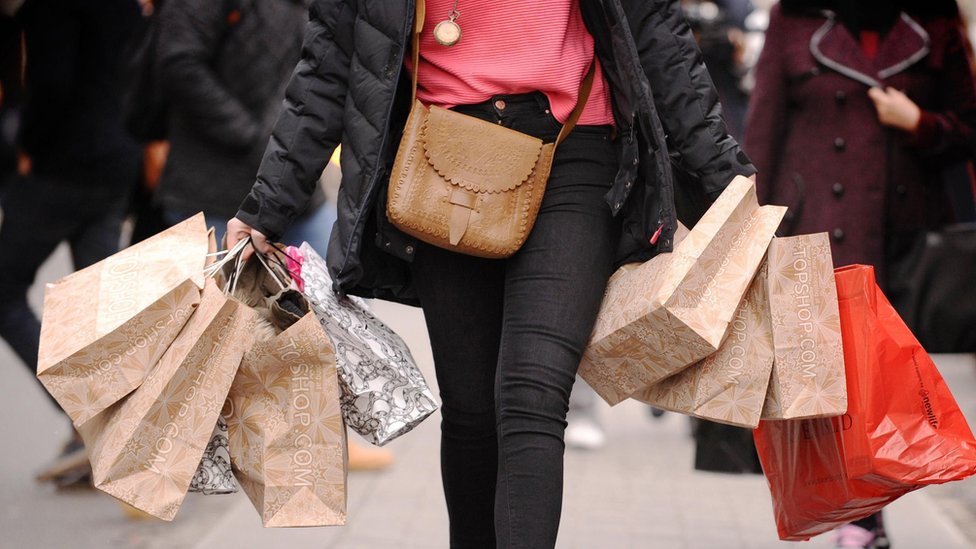 In another sign of the way the pandemic has changed shopping habits, online retailing accounted for 31.4% of the total, compared with 28.6% a year earlier.
The ONS said feedback from businesses suggested that consumers had brought forward Christmas spending.
"In a month where England went back into lockdown and the UK as a whole was subject to tightening restrictions, it's little surprise that physical retail sales growth stalled in November," said Lynda Petherick, head of retail at Accenture UKI.
Shopper
IMAGE COPYRIGHTPA MEDIA
image captionConsumers had already brought forward Christmas spending, the ONS said
"However, the show must go on when it comes to Christmas shopping, and some retailers have triumphed by preparing their e-commerce operations for the boom in online sales.
"Black Friday and early festive shopping continued to stimulate a sector so desperately trying to build recovery momentum."
Samuel Tombs, chief UK. economist at Pantheon Macroeconomics, said: "Retail sales will rebound in December, probably to a new record high, as people undertake their pre-Christmas shopping over a narrower time period than usual."
He pointed out that consumers had "rushed back to the shops" since non-essential retailers were allowed to reopen on 2 December.
"Retail sales, however, probably will struggle to improve on December's level next year, given that income support schemes will come to an end in April and people will rotate towards consuming more services again once they have been vaccinated.
"What's more, non-essential shops might well be forced to close again to contain a third wave of Covid-19 in January. The collapse of more traditional High Street retailers next year, therefore, seems inevitable."