European travel bans
The prime minister will chair a meeting of the government's emergency committee later after France closed its border with the UK for 48 hours.
The move, announced on Sunday, means no lorries or ferry passengers will be able to sail from the port of Dover.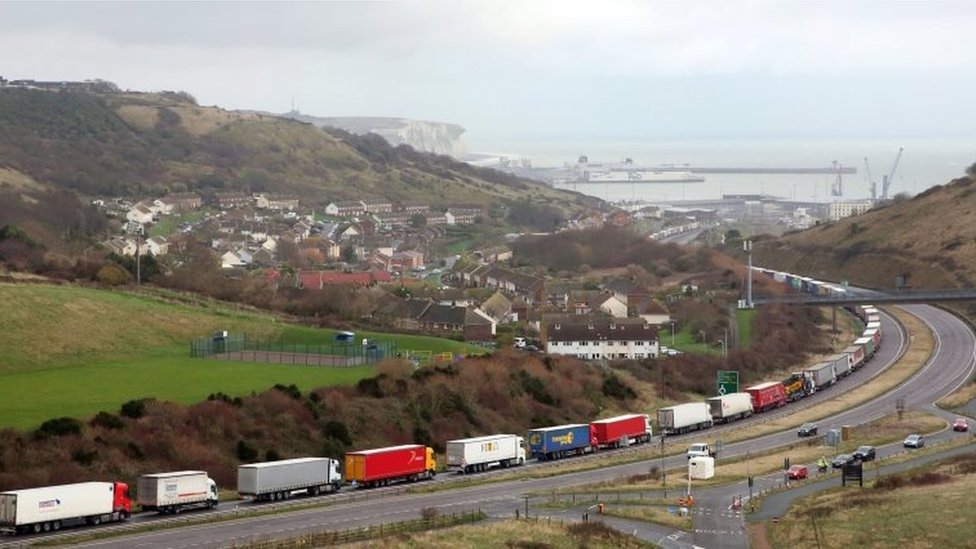 France said the action was necessary because of the prevalence of a new variant of coronavirus in the UK.
Nations including Germany, Italy, Belgium, the Irish Republic, Turkey and Canada are suspending UK flights.
Switzerland has also suspended UK flights, and Hong Kong will do so from midnight.
Austria is also set to bring in a ban, while Bulgaria has suspended flights to and from the UK from midnight. Unlike the short-term measures in many other nations, its ban lasts until 31 January.
European Union member states are due to meet in Brussels to discuss a co-ordinated response.
Kent Police has put Operation Stack into force on the M20 towards Dover to queue lorries caught up in the disruption.
The coast-bound carriageway of the motorway has been shut between Junctions 8 and 11 as a "contingency measure", the force said.
Manston Airport in Kent is being readied to take up to 4,000 lorries to ease congestion in the county, the Department for Transport has said.
Concerns have been raised by the Food and Drink Federation that the border restrictions could disrupt UK food supplies, and exports of British goods abroad.
Asked if he could guarantee that Covid-19 vaccine supplies – which come from Belgium – would not be affected by travel bans, Mr Shapps told BBC Breakfast: "Yes I can – and the reason is actually that the vaccine wasn't coming in through the roll on, roll off – precious few lorries had brought it in that way.
"It comes via containers and the container traffic isn't affected at all, so this isn't an issue with the vaccine at all."
Unaccompanied freight, such as containers or lorry trailers on their own, can still be transported.
The transport secretary added that he would speak to his opposite number Jean-Baptiste Djebbari later, adding that France was "very keen to get the hauliers moving again".
About 10,000 lorries a day travel between Dover and Calais during peak periods such as Christmas.
Freight industry lobby group Logistics UK appealed for calm from shoppers, and said it was "maintaining close contact with UK government to ensure that supplies of fresh produce are available throughout Christmas and the new year".
Although freight from France is still allowed to enter Britain, there are fears lorry drivers might not travel because they fear being stuck in the UK over Christmas.
Eurotunnel services to France are also suspended and Eurostar trains to Belgium are not operating.