UK closes all travel corridors until at least 15 February
ll UK travel corridors, which allow arrivals from some countries to avoid having to quarantine, have now closed.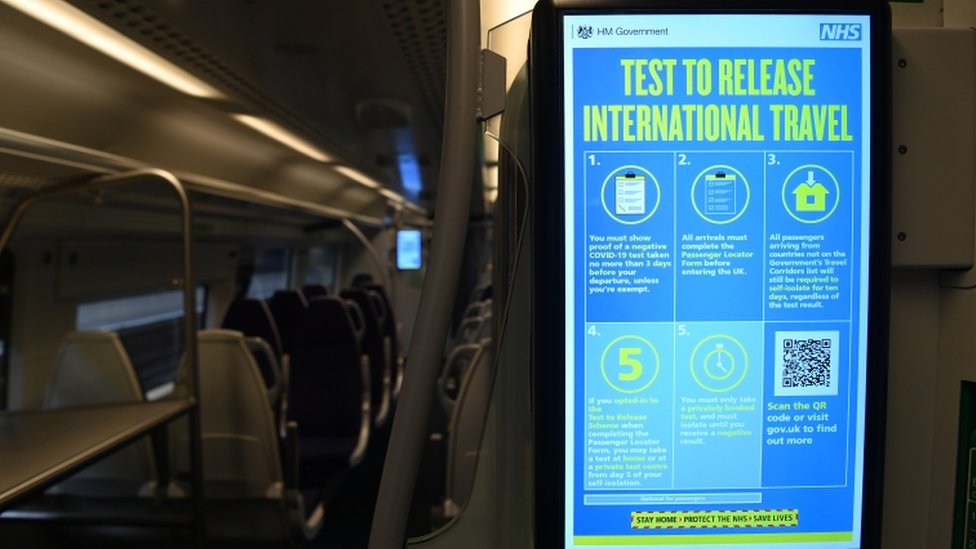 arriving in the UK, whether by boat, train or plane, also have to show proof of a negative Covid-19 test to be allowed entry.
The test must be taken in the 72 hours before travelling and anyone arriving without one faces a fine of up to £500.
All passengers will still be required to quarantine for up to 10 days.
The isolation period can be cut short with a negative test after five days.
The government has said the travel corridor closure will be in force until at least 15 February.
media captionCoronavirus: How to fly during a global pandemic
Under the new rules, travellers arriving from the Falklands, St Helena and Ascension Islands are exempt.
Those arriving from some Caribbean islands are exempt until 04:00 GMT on Thursday 21 January.
EasyJet chief executive Johan Lundgren said the closure of the travel corridors will not have a "significant impact" on his airline in the short term as flight numbers were already limited due to the pandemic.
He told BBC Radio 4's Today programme that the minimum number of days arrivals must wait to take a negative test releasing them from quarantine could be reduced from five days to three days.
Foreign Secretary Dominic Raab told the BBC'S Andrew Marr Show on Sunday that Public Health England would be stepping up checks on travellers who must self-isolate.
He said enforcement checks at borders would also be "ramped up" and added that asking all arrivals to self-isolate in hotels was a "potential measure" the government was keeping under review.
Earlier, the government announced that a financial support scheme for airports in England would open this month in response to the new travel curbs.
Aviation minister Robert Courts said the aim was to provide grants of up to £8m per applicant by the end of this financial year.
Industry groups have warned there was only so long airports could "run on fumes", following the announcement of the new quarantine rules.