UK factory still under threat from no-deal Brexit
The UK's largest car manufacturing plant is "unsustainable" if the UK leaves the European Union without a trade deal, owner Nissan says.
The Japanese company's global chief operating head told the BBC people had to understand the EU was the Sunderland factory's biggest customer.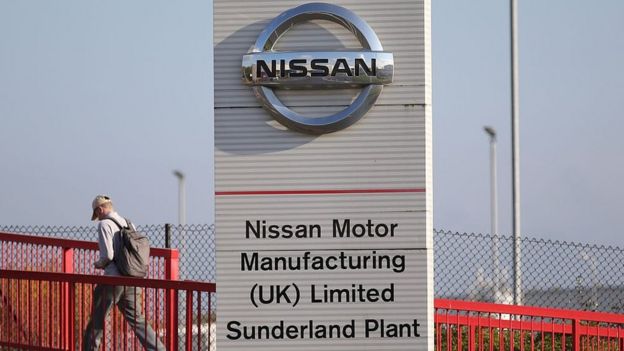 Ashwani Gupta said that Nissan's commitment could not be maintained if there was not tariff-free EU access.
Nissan has invested billions of pounds in the plant, which has 7,000 workers.
His comments come despite the Sunderland site surviving this week's announcement on the Japanese giant's global restructuring programme.
Mr Gupta said: "You know we are the number one carmaker in the UK and we want to continue. We are committed. Having said that, if we are not getting the current tariffs, it's not our intention but the business will not be sustainable. That's what everybody has to understand."
Crucial talks
He also said that any plans for its strategic partner and 43%-shareholder Renault to take up spare capacity at Sunderland would be a matter for the French carmaker. The French government has a 15% stake in Renault.
This is not the first time that Nissan has pleaded with UK and EU negotiators to ensure that the 70% of cars manufactured at Sunderland which are sold in the EU can avoid tariffs of 10% under World Trade Organisation rules – the legal default position if a deal is not struck.