Safe for the public to shop again
People should feel confident that it is safe to go shopping when non-essential shops reopen in England on Monday, Chancellor Rishi Sunak has said.
Retailers have taken "extraordinary steps" to make sure environments are safe during the coronavirus pandemic, he told the Andrew Marr Show.
Perspex screens, social distancing and customer limits will all help create a protected environment, he said.
"All of that will mean people can feel safe," he said.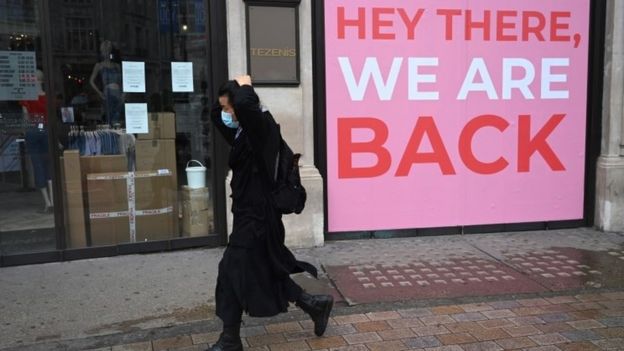 While food shops and pharmacies, as well as other essential retailers including banks and petrol stations, have been open throughout the lockdown, non-essential stores, such as book shops and fashion outlets, have been shuttered since 23 March.
From Monday, most retailers can open as long as they follow safety guidelines. Those who fail to ensure their premises are Covid-secure could face enforcement notices.
Perspex screens at the tills and floor markings to keep shoppers 2m (6ft 5ins) apart – already a regular fixture in supermarkets – will be a key feature.
Other measures will include pleas not to touch items unless customers intend to purchase them and decontaminating shopping baskets after each use.