Some parts of England will run out of water within the next 20 years
Some parts of England will run out of water within the next 20 years unless "urgent action" is taken.
That's the view of the Public Accounts Committee (PAC) in a report on the state of water supplies.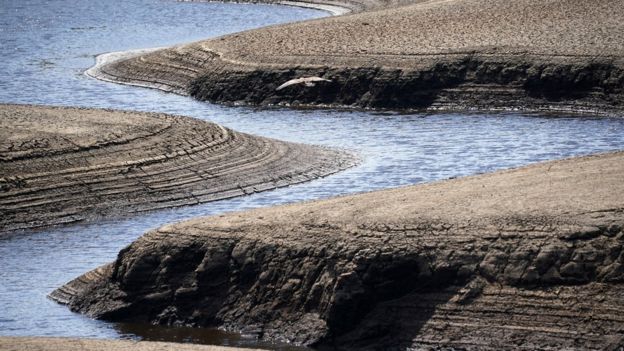 It's calling on the government to establish a league table for water companies to pressure them into dealing with leaks.
It also wants efficiency labels on domestic products like washing machines and dishwashers to be made compulsory.
The government responded by saying it had already initiated a programme to improve performance in the water industry.
London's leakiest streets revealed
Water companies 'have damaged trust'
"One-fifth of our daily supply is wasted."
The PAC is accusing ministers and regulators of taking "too ponderous" an approach to improving infrastructure.
In their report, the MPs say the Department for Environment, Food and Rural Affairs (Defra) has shown a "lack of leadership" on the issue.
"Defra has failed to lead and water companies have failed to act," committee chair Meg Hillier MP said.
"We look now to the department to step up, make up for lost time and see we get action before it's too late."
Image copyrightPA MEDIA
Image caption
Water in reservoirs dipped sharply in May this year
According to the report, people in England and Wales use about 14 billion litres of water a day – one-fifth of which is wasted through leaky pipes.
It calls for water companies, which were privatised in 1989, to be ranked on their performance, and for a "coordinated national message" to encourage people not to waste water.
The MPs said every domestic product sold in the UK that used water, such as washing machines and dishwashers, should have a label on it to show how efficient it was. Also, when building new homes, the government should make water efficiency as much of a priority as energy efficiency and low-carbon heating.