Pret a Manger offers coffee on a monthly subscription
Pret a Manger is to offer customers up to five coffees a day if they sign up to a monthly subscription service.
The chain is hoping that the price tag of £20 is low enough to win back some of the business lost in the pandemic.
But city centres, saturated with coffee shops, remain relatively deserted as many office workers continue to work from home.
Pret has already announced it is closing 30 outlets and laying off a third of its staff.
Pret boss Pano Christou told the BBC's Today programme: "There's no doubt that workers will come into the office less often than beforehand. Pret needs to adapt itself to the changes of customer patterns and that's where we've been very focused."
Although many of the sandwich chain's outlets are in central London, Mr Christou said that 40% of its business was in London suburbs and the home counties, where customers were starting to return "much more swiftly".
He added that Pret had seen its delivery business grow tenfold through the coronavirus crisis.
New strategy
The coffee and sandwich chain is launching YourPret Barista next week as part of new digital strategy which it hopes will help revive its fortunes.
Briony Raven, Pret's director of coffee and packaging, said the scheme aimed to help persuade customers to see Pret as the default choice, in the same way they do other subscription services such as Netflix.
"It's Pret's way of doing loyalty," she said. "It's about giving people an easy choice, when they come back into their everyday routine.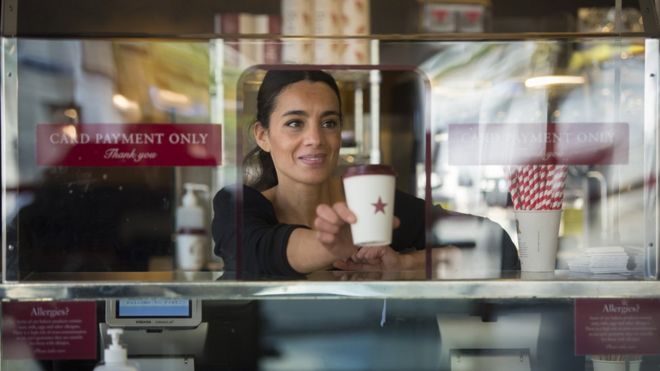 For the fixed monthly fee a customer can select any "barista prepared" drink from a skinny soya latte to a smoothie, using their phone to access the subscription, up to five times a day, seven days a week.
To prevent misuse by anyone planning to get in a round of coffees for their friends and colleagues, each drink must be collected 30 minutes apart.