Eat Out to Help Out drives UK inflation to five-year low
The UK's inflation rate fell sharply to a five-year low of 0.2% in August as the effect of the Eat Out to Help Out scheme pushed down restaurant prices.
July's Consumer Prices Index (CPI) inflation figure had been 1%.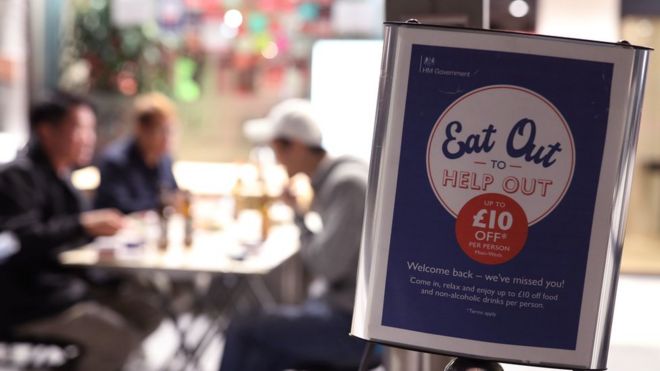 The VAT cut in the hospitality sector from 20% to 5% was also a factor, said the Office for National Statistics.
Low inflation is good for consumers and borrowers, but can be bad for savers, as it affects the interest rates set by banks and other financial institutions.
The eating out scheme, which ran from Monday to Wednesday in August, offered 50% off food up to the value of £10.
The cost of clothing and footwear also fell significantly. And in an indication of the severe affect of the pandemic on travel and tourism, air fares fell as fewer people travelled abroad because of quarantine restrictions.
The ONS said this was unprecedented for August, which is usually the peak month of the holiday season.