What impact has the furlough scheme had?
It's been a little over seven months since the government pledged to subsidise the wages of employees hit by the coronavirus pandemic.
Whatever your memories of the occasion, it was a significant moment. The UK's long lockdown had not yet begun, but it was clearly on the way.
On that same date, 20 March, cafes, pubs and restaurants were ordered to close, while three days later, people were ordered to stay at home and non-essential shops were shut.
It was a defining event for Chancellor Rishi Sunak, too, as he unveiled his "unprecedented" furlough scheme.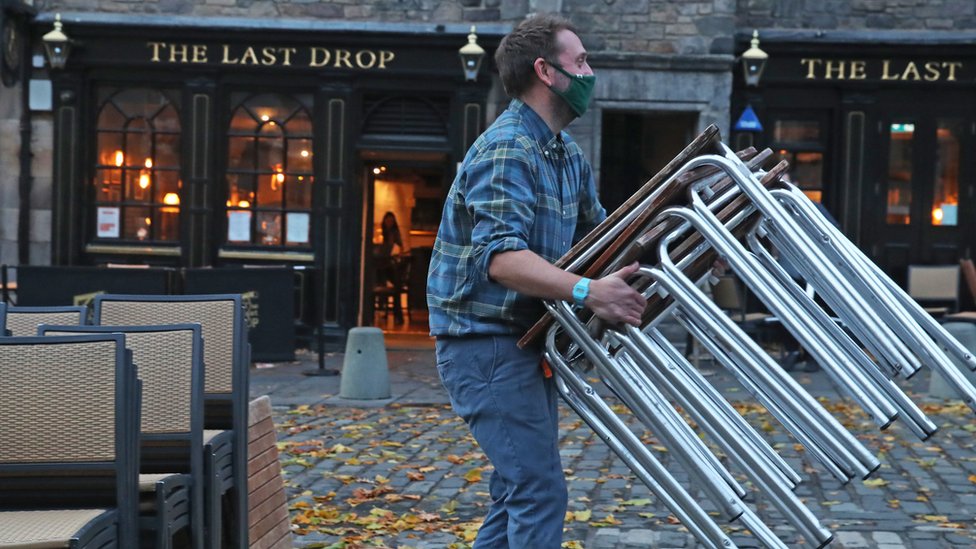 Drawn up after lengthy talks with business groups and union leaders, it committed the government to paying 80% of the salaries of staff who were kept on by their employer while unable to work, covering wages of up to £2,500 a month.
Number of furloughed workers
Under the furlough scheme, which ends on 31 October, around 9.6 million people have benefited at one time or another, with a steep take-up in the first few months.
But that doesn't mean the government was ever paying that many people's wages at any given time.
According to data from HM Revenue & Customs (HMRC), the number of jobs furloughed peaked at 8.9 million on 8 May. It then fell to 6.8 million by 30 June and an estimated 5.1 million at the end of July, by which time lockdown restrictions had eased.
Since then, it has shrunk to about 3.3 million – but that still represents 12% of the UK's workforce. At the same time, those who remained in work saw their hours decline sharply.