Covid: Large trial of new treatment begins in UK
A large-scale trial of a new treatment it is hoped will help stop Covid-19 patients from developing severe illness has begun in the UK.
The first patient received the treatment at Hull Royal Infirmary on Tuesday afternoon.
It involves inhaling a protein called interferon beta which the body produces when it gets a viral infection.
The hope is it will stimulate the immune system, priming cells to be ready to fight off viruses.
Early findings suggested the treatment cut the odds of a Covid-19 patient in hospital developing severe disease – such as requiring ventilation – by almost 80%.
It was developed at Southampton University Hospital and is being produced by the Southampton-based biotech company, Synairgen.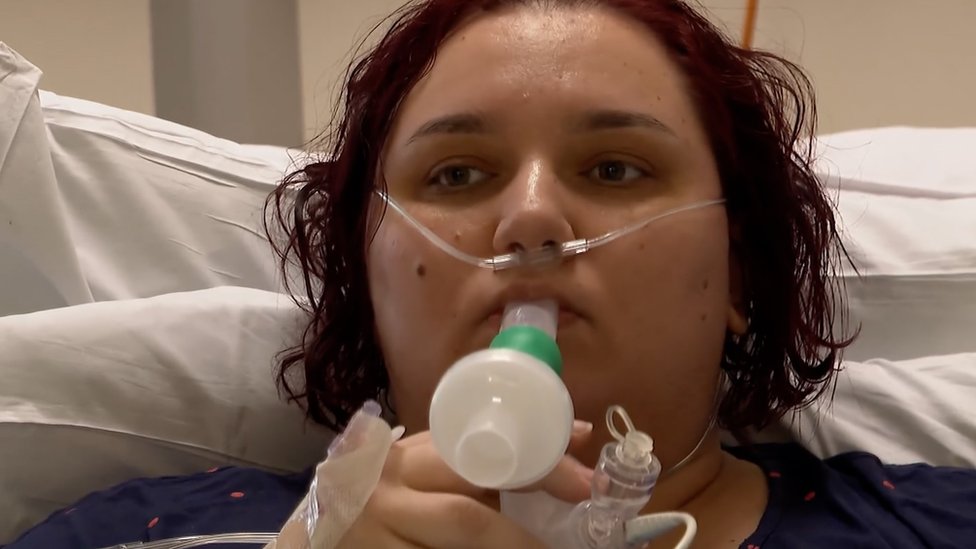 A course of treatment with the new drug could cost around £2,000, which is not that expensive for a hospital treatment.
"To be viable it will have to represent good value for money," Synairgen's chief executive Richard Marsden said.
How does the treatment work?
Interferon beta is part of the body's first line of defence against viruses, warning it to expect a viral attack.
The coronavirus seems to suppress its production as part of its strategy to evade our immune systems.
The new drug is a special formulation of interferon beta delivered directly to the airways via a nebuliser which makes the protein into an aerosol.
The idea is that a direct dose of the protein in the lungs will trigger a stronger anti-viral response, even in patients whose immune systems are already weak.
Interferon beta is commonly used in the treatment of multiple sclerosis.
Previous clinical trials conducted by Synairgen have shown that it can stimulate an immune response and that patients with asthma and other chronic lung conditions can comfortably tolerate the treatment.
2px presentational grey line
The results of a smaller, phase two clinical trial of the treatment conducted last year were promising.
It suggested the chances of a Covid-19 patient in hospital getting severe disease – requiring ventilation, for example – were reduced by almost 80%.
Patients were two to three times more likely to recover to the point where everyday activities were not compromised by their illness, Synairgen claimed.
It said the trial also indicated "very significant" reductions in breathlessness among patients who received the treatment.
In addition, the average time patients spent in hospital is said to have been reduced by a third, for those receiving the new drug – down from an average of nine days to six days.
But the trial was small, just 100 patients, and more testing is needed before it can be authorised for use.
This new "phase three" trial is much larger. It will involve more than 600 patients in 20 countries.
As in the earlier trial, half the participants will be given the drug, the other half will get what is known as a placebo – an inactive substance.
The team running the trial say they hope it will be completed by early summer.
If the results are anywhere near as good as in the earlier trial, they expect authorisation for the drug to be used in patients in the UK and other countries to follow shortly afterwards.