What is net zero and how are the UK and other countries doing?
Jo Clark
Countries are setting out plans to cut greenhouse gas emissions, at the COP26 climate change summit.
They hope to achieve the global target of "net zero" by 2050, to help slow global warming.
What does 'net zero' mean?
Net zero means not adding to the amount of greenhouse gases in the atmosphere.
Achieving it means reducing emissions as much as possible, and balancing out any that remain by removing an equivalent amount.
This is important because greenhouse gases like carbon dioxide (CO2) are released when we burn oil, gas and coal for our homes, factories and transport. This causes global warming by trapping the sun's energy.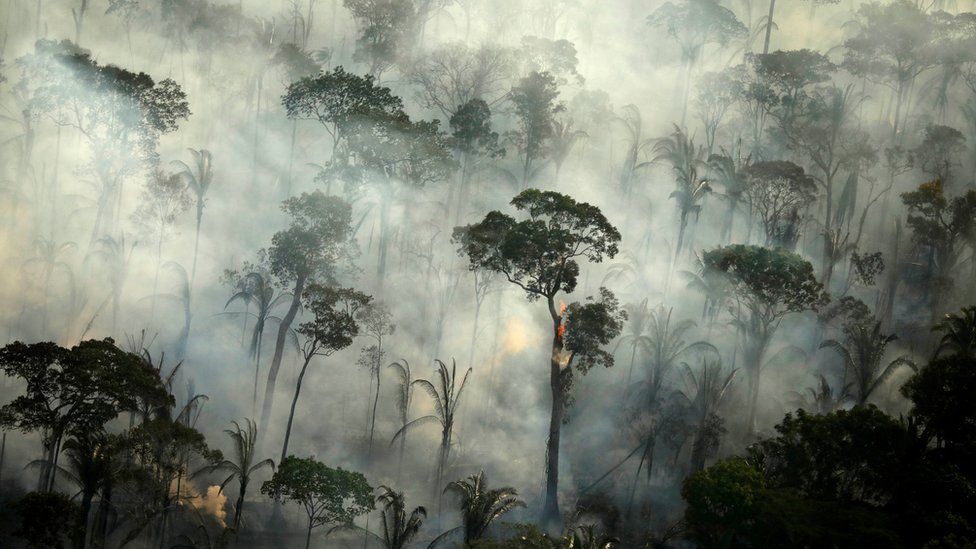 Under the 2015 Paris Agreement, 197 countries agreed to try to keep temperature rises "well below" 1.5C to avoid the worst impacts of climate change. Experts say that to achieve this net zero must be reached by 2050.
During COP26, nations are setting out the steps they are taking.
What the COP26 climate summit could mean for us all
More than 100 world leaders promised to tackle deforestation, which contributes to climate change because trees can absorb vast amounts of CO2.
Brazil – where stretches of the Amazon rainforest have been cut down – will be among the signatories, along with the UK, the US, Canada, China, Indonesia and the Democratic Republic of the Congo.
Dozens of countries have also pledged to cut methane emissions by at least 30% by 2030. Methane is responsible for a third of current global warming caused by human activities. However, China, Russia and India have not signed up.
What other net zero action have countries promised?
Although 132 countries have publicly pledged to reach net zero emissions before 2050, China – currently the biggest producer of CO2 in the world – says it is aiming for "carbon neutrality" by 2060. It has not set out exactly what this means and how it will get there.
India – the world's fourth biggest emitter of CO2 after China, the US and the EU – has promised to cut its emissions to net zero by 2070.
Some of the world's most heavily populated countries – including Russia and Indonesia – have not given any net zero commitment.
What has the UK committed to do?
Presenting the net zero strategy to the House of Commons in the run up to COP26, Energy Minister Greg Hands pledged:
£620m in grants for electric vehicles and charging points, plus £350m to help the transition from petrol
Grants of up to £5,000 for householders to install low-carbon heat pumps
£120m to develop small nuclear reactors (no announcement on the go-ahead for the Sizewell C nuclear power station in Suffolk)
£625m for tree planting and peat restoration
More money for carbon capture and storage hubs